Ariadne was built in Falmouth in 1995. The company was then known as Orion Marine, run by Chris Owen. Unfortunately the original specification is no longer available on line. The best version I can find is accessed by clicking here.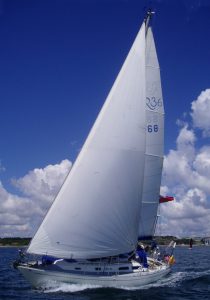 There is also an album of images that I put together during the build (orange button). We eventually took delivery in February 1995, and sailed the boat back with my 2 sons when the wind dropped  to 40kts. Chris Owen kept telling us that the boat could take the weather. I was more concerned about whther we could. Most of the trip (which took about 26 hrs from Falmouth to the Needles) was under well reefed genoa only, in seas of more than 2 metres! A baptism of fire indeed!
Shortly after completion the company changed ownership and became Rustler Yachts. It is to their credit that they have continued to support owners ever since.
Dairne and I wanted to be able to sail her by ourselves, so we had a few additional extras to make handling easier as we approached retirement age. The principal ones were
– Single Line Reefing
– Electric anchor windlass
– Portable inner forestay for a heavy  weather jib
– An entry-level ST50+ radar
– ST 4000 tiller autopilot
– Addition of a GPS and chart plotter to the
  standard ST50+ instruments
– A multi instrument at the chart table so we  could access most of the data
– An additional locker for glassware
– An up-mast stowage for a telescopic  spinnaker pole
– Tank Tender tank guaging
– Eberspacher cabin heating
– Some extra safety features such as  fireproofing of cockpit drains
– A boarding ladder
– A large holding tank
– Additional lockers over bunks in forecastlle
– Root berth bunks in main saloon
– Double bunk insert in main saloon
When Ariadne was built, the standard engine was the Yanmar 3GM 27hp. It makes 6kts in calm conditions with a clean hull, but suffers a speed reduction to well under 5kts against wind and a chop. (The standard is now a Nanni ). The engine has performed well for nearly 4500 hours
As our intended cruising area was NW Europe we initially specified the simple Supercool unit, but when we started to go south into Biscay, we found it could not cope with temperatures exceeding 30°C.   Eventually we fitted a Waeco fridge unit. It has proved wonderfully successful, and we have had ice for our gin and tonics even in the greatest heatwaves.
On the advice of Terry Eagle, I fitted the fridge compressor in the cockpit locker. This was at the absolute limit of the standard length of piping between fridge and compressor, but it means that the heat generated by the compressor does not go into the cabin.We have had no problems of heat build up in the cockpit locker… so far!. I did, however, add a 'door' that should reduce the risk of water coming through the cockpit locker hatch getting into the fridge electrics.
I am  convinced that the Waeco unit uses a lot less power than the Supercool unit.
By the time we sold Ariadne we had sailed over 36,000 miles in her
2015
Sold to Susie Goodall
repaint deck
new cooker and Nereus gas alarm
work in accordance with survey
Deck leak cured
2014
LED cabin lights (main saloon)
Launching trolley modified
battery isolation altered
Cabin heating replaced with Mikuni
New mainsail and genoa (Penrose)
Liferaft removed
New shower room seacock
2013
New gel batteries
Solar panel replaced
New galley drain seacock
Rebuilt forehatch trim
Purchased Walker Bay
2012
New cockpit drain seacocks
New main and genoa
2011
New Lower shrouds
Replace chainplate bolts
2010
New cap shrouds
Software on Board Nav software
Running on a Laptop
2009
New forestay and backstay.New GPS
Ariadne had been built with tiller steering. Dairne preferred it; the cockpit mouldings were designed for tiller steering; and we had always intended to add windvane steering. After our trip to Ireland (when Iain, Clare and their friends had crossed to Ireland in F6 plus) we decided it was essential. After talking to other Rustler owners, we opted for the American Monitor system. It has worked extremely well ever since.
Monitor Windvane
Installing  the Monitor would have been tricky  but for the help of Clare, Iain's wife. At five feet tall, she was able to get right into the stern space and reach across the top of the tiller trunk with a spanner taped to a bit of alloy to reach and tighten the nuts on the deck fastenings.
Such is the power and speed of the Monitor that it will usually keep control of the boat even when there is a quartering sea on a broad reach.
The Monitor has been a great success. On passage, it is like having an extra crew member who never tires. It also means that the person on watch can stay in the shelter of the hood and simply act as lookout, with occasional need to trim the vane if the wind shifts or changes strength.
.I also like the 'after sales' service. On a couple of occasions I have sent Hans at Monitor an email for spares. These have been despatched immediately. He trusts his customers once he gets to know them, so we settle up when convenient to both. The real bonus of having a windvane is that it is possible to eliminate serious wear and tear on the electric autopilot by attaching it to the windvane mechanism. This means that the enormous power of the windvane paddle can be applied to the tiller by a minimal force applied by the electric autopilot.
Also, in restricted waters, such as Southampton Water, it frequently happens that the wind gives a gusty beam reach. In such narrow waters, the wind vane on its own produces unacceptable course changes as the gusts come and go. But if the autopilot is attached to the windvane unit, it can be set to steer a compass course, which it manages with ease, whereas the electric pilot on its own lacks both the power and the speed to cope. It works amazingly well.  
On True, in New Zealand, we have an Aries windvane. It works well. Indeed if I were starting again, I would consider a new generation Aries which is robustly built, and has the option of lifting the paddle, like the Monitor.
Scanmar International is now under new ownership as Hans has decided to go sailing! The new owners are equally helpful and have offered Susie a lot of help including a significant supply of spares.
At the end of out first season, I decided that the boat would handle better with a bigger rudder. It was a major piece of timber engineering that I could not have attempted without help from Greg, my brother in law. I have always felt that Kim Holman designed smaller rudders than other contemporary designers,
In essence, examinations will show that all Holman and Pye designs have a relatively small rudder. Since the design was drawn, the boats have become heavier because of all our modern cruising equipment, and the propeller aperture has been increased.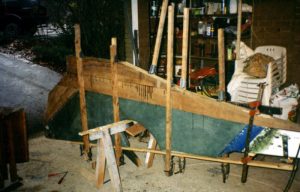 The larger rudder helps when on a close fetch (it does not stall as easily) and greatly assists manoeuvring in tight spaces such as marinas, a frequent problem with long keel boats with a cutaway forefoot.
[In the 1950s, Belmore was a 36ft boat with similar hull shape built for the Bermuda Race which is often a close fetch. She had a much bigger rudder than the standard Rustler. Another boat with a similar hull shape and rig was the Giles 38, which had a rudder shape between Belmore and the standard Rustler.Ariadne's new rudder was broadly modelled on that shape]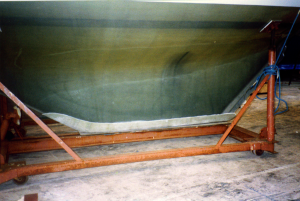 The encapsulated Keel on the Rustler 36 (which contains about 4 tonnes of lead) has the great advantage that there are no keel bolts to corrode and wear. However, the downside is that if the boat takes the ground on anything other than soft mud, there is likely to be damage to the keel gel coat from shingle or shells.  Chris Owen at Orion Marine suggested a fibreglass shoe. It is a piece of moulding taken from the bottom of the hull mould. It was attached by filling it with Sikaflex and lowering the hull into it. There is no other fastening!
Clearly there must be some speed penalty, but for coastal cruising that is a small price to pay. On at least one occasion, it saved the main hull when I hit the ground quite hard. The shoe was damaged, nut there was no   noticeable damage to the hull.
The shoe survived  for may years, though in later years additional mastic ha to be added as the shoe sprung away from the hull a bit. It started to look untidy, so it was removed before the boat was sold. The keel underneath was in perfect condition.
For Susie's round the world race, such a shoe would be  a bad idea, but I was glad I had had it fitted for our coastal cruising.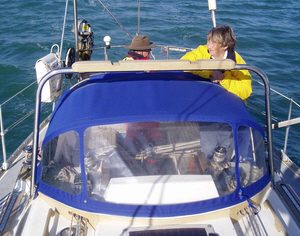 When we added the trysail, I also added a boom gallows, using the same design as Mike Thoyts. Mike, who took his Rustler round the World, commented "A gallows transforms a boom from a weapon thrashing around trying to knock you overboard into a handrail!"
It is 1¼" stainless tube, and requires accurate fitting. I got Bob Hatcher at Shamrock to finish the job. He is an excellent shipwright (now retired, sadly). It is secured through the coachroof sides with teak pads inside and out (the inside ones are hidden by the curtains). The height has to be very accurate because the hood must fold down under the gallows, the boom should pull easily onto it, but there must be enough clearance in case the boom sags a bit when a reef is pulled in (e.g. If it has been done hurriedly). There is very little tolerance. Indeed I had forgotten to tell Hood that I was adding a gallows, and they had to re-cut the foot – which they did willingly.
For us geriatrics, the gallows is a real boon. It provides a secure handhold when going forward past the hood or boarding from a dinghy; it steadies the boom once the mainsail is lowered; and it is a good frame on which to rig a sunshade. We have been surprised how unobtrusive it is.
One complication is that I have permanently rigged foreguys. This is a single length of rope secured in the middle at the outer end of the boom with eyes spliced at the ends. When not in use they are held up to the boom by shock cords. But if they sag at all they could snag on the gallows, so a bit if care is needed. These foreguys can be rigged and unrigged by joining on a lazy part at the gooseneck end where it is always accessible – no need to reach out to the boom end. I am surprised more people do not use this simple arrangement.
Most of the chainplates in the Rustler are boxed in behind the teak lockers and linings. One of those we could see has been showing rust stains for some time, even though I have tried to re-bed the deck plate in new mastic.
Also, we knew from other owners that boats built at about the same time as ours used studding rather than bolts to fix the chainplates. This is bad practice, and on one boat that had been hard used, there were signs of distortion and other problems. But addressing the problem was a daunting prospect.
Terry Eagle had done it on Danae, and written up the procedure in Rustler Ramblings. So I asked Paul Wheeler at Marchwood to do the job.
As you can see, he followed Terry's guidance, and added his own touch by making the inevitable holes a feature, lightly plugged so that the chainplates could be more easily inspected in future.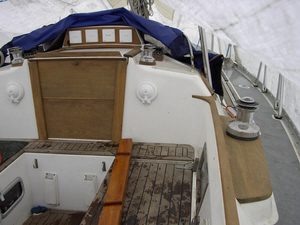 After 8 years we cleaned the teak with Semco. After   14 seasons, it seems to be doing a good job, but may need redoing thoroughly soon because I did not do a mid season re-coating. The pictures show the original before and after condition quite well. Even after 2 neglected years, it is still a great deal better than it was
The interior was revarnished using Epiphanes interior varnish – except the cabin sole where we used a harder Blakes one can poly.
We replaced the hood for which David Colquhoun made a new breakwater so that the bottom runs in a track, and we added a cockpit table. David also made a new laminated oak tiller to replace the Iroco one which was showing some shakes in the laminates.
The cockpit table is mounted from a pillar supported by the side of the cockpit well. I had seen this design on Rod Kennedy's Wild Swan. I searched the Southampton Boat Show for something similar, and eventually found exactly the same design available from Howells of Poole. It is a well engineered Italian design, although I gather manufacture has been taken over by another company
The original sails were not particularly good, so the year I retired we splashed out on a set of Hoods. They added half a knot to speed on virtually all points of sailing, even though the genoa was 130% overlap in place of the 150% of the old sails.  To the annoyance of Hood, we added a stakwrap.
Early experiments with a smaller headsail to act as an emergency spare, or for twin headsail running have been abandoned in favour of the new Channon staysail (see Heavy weather upwind).
Just before we set off to Scotland, I got a cruising chute from Ullmans. A light weather sail had been overdue for some time, and this has really made a difference. Because of a gloriously dyslexic comment from Clare, Iain's wife, it will always be known as the Cursing chute! It is set and recovered using a squeezer.
Once the apparent wind exceeds 120 degrees, it is better to pole out the genoa. We have a telescopic pole with up mast stowage. This is highly suitable for short handed sailing because one end of the pole is always attached to its track on the foreside of the mast.
The next sail to be added was a trysail. This was done after talking to Mike Thoyts, who has circumnavigated a Rustler. (See Heavy Weather downwind)
We shifted our allegiance to Channon Sails. John Channon who used to be MD of Hood. He was successfully  building a clientele to whom he provided a very personal service, but suffered a serious heart attack.
The Hood sails lasted 10 years, but in 2012, we went to Penrose in Falmouth who have made many Rustler sails.
Sadly Dairne had a stroke before we were able to collect them. Gavin Watson of Penrose came up to the Solent to fit them. They are a delight to use, though we have not been able to undertake a major cruise since then. I am looking for chances to wear them out!
Our first effort was a heavy weather jib, probably a bit bigger than a real storm jib. It was built to go no higher than the second reef, and to clear the forward lowers. It was set with hanks on the inner forestay and could live in a 'body bag' on deck, with the tack secured and all the the hanks held on a wire loop so the sail cannot blow away. It was sheeted via a strop to the main track. This works surprisingly well, and the boat goes well to windward in very strong winds. But this rig lacks power below 23kts of apparent wind.
So in 2007, we bit the bullet and got John Channon to make a staysail that filled the triangle formed by the inner forestay. After a bit of experimentation, this sail worked well, giving good performance in flat water down to 15kts of apparent wind (but lacking drive to punch through a sea until the wind freshened). With this rig the boat heels less, makes less leeway, and is generally more docile, feeling a lot less pressed in the gusts. It is probably faster than the genoa in winds over 18kts in terms of VMG (in flat water).
Ariadne was handed over to us in February 1995. There was a string of gales charging up the Channel, so Dairne and I, together with our sons, Iain and Neil, waited for a break in the weather, After 4 days, there was a sort of lull, so we set off in the late afternoon. There was still a big sea running, and the wind was brisk – at times we had 42kts true. With only a reefed genoa, we made over 5 kts through the long winter night. After rounding Portland, well outside the race, we were able to set a double reefed main. The trip from Falmouth to the Needles took about 24 hours. Our confidence in the boat and its ability to look after us rose, and we have never had any reason since then to doubt it.
Some years ago, we added a trysail. This was done after talking to Mike Thoyts, who has circumnavigated a Rustler. He says that the boat will maintain 5+ kts under trysail and heavy weather jib in winds over 30kts, without heeling much; and he also hoists it when running under genoa only as its helps stop the rolling. If you hoisted the main, the genoa would collapse.
As the boat doesn't heel, it is very fast. The sail is sized so that if it is hoisted right to the top of the track (i.e. to the spreaders), it sheets to the boom end. In a real storm it can be set lower sheeted to the toe rail, with the boom held by the gallows. I just rang Sanders at Lymington and asked for a twin of the sail they had made for Mike! An extra track was put on the mast and the sail lives permanently on this track with its own cover.
All that is needed to hoist the trysail is to
– undo the cover
– transfer the halyard from the mainsail to the trysail
– transfer the no 3 reef tackline to the tack of the trysail
– transfer the no 3 reef clew line to the clew of the trysail
Then hoist away. If you have single line reefing, the sail can be controlled from the cockpit.
In storm conditions replace the clewline with a new sheet via a snatchblock on the toerail to the winch
For years, I have used a heavy dinghy as a tender. It had to be sufficiently stable so that Dairne could easily get in or out of it. In a single trip we could get all our food and gear on board, and leave the dinghy on the mooring, unless we were going away for a long time. But the weight was a problem, and I had a tow hitch added to the car so that I could pull it up the slip.
After Dairne's stroke, she could no longer use the dinghy. So I now have to go out to Ariadne, and bring her alongside for Dairne to board and to load stores. The need for a big heavy dinghy has gone.
Following a lead from Mike and Helen Clegg, I purchased a rigid 8ft Walker Bay dinghy. It has a flotation collar that makes it incredibly stable and unsinkable. It rows beautifully, takes a small outboard, and also sails well. The capacity is 2 adults (plus a couple of small children!).
The downside is that it is rather valuable so cannot be left on the mooring.  On the other hand, it is lighter than my Avon Redcrest, so I find I can lift it on deck with a spare halyard and turn it over on my own to stow on deck, I prefer to stow it with the bow aft on one side of the mast. This leaves a clear passage and a workable foredeck.
We have retained our faithful Avon Redcrest. Having no outboard transom means that it rolls up and stows under the aft cockpit seat, Few other dinghies of that size would do so.
When cruising we have often carried it stowed inflated on deck with the bow aft alongside the mast. This has worked even on some fairly rugged Channel crossings. This obstructs light into the forecastle, but it is quite easy to stand the dinghy on its side lashed to the shrouds when in harbour. This avoids it getting in the way if put overside.
Yes, it will tow, but if there is any lop on the water, a significant amount of spray will get in.
At night, the inflatable skirt is a fender so it will sit alongside comfortably. Alternatively, I often lift it clear of the water and leave it hanging alongside.
Both the tender and the Avon were retained when Ariadne was sold, though the Avon was subsequently sold.
While in Scotland we noticed that quite a few boats had a deckwash pump. We soon found out why.
If you anchor on the South or East Coast, it is rare to need much more than 15 metres of chain (except where the bottom is hard sand or similar), so only 3-4 metres of chain comes up muddy. In some Scottish lochs, you may need 35-40 metres of chain, and 10-15 metres will come up dirty.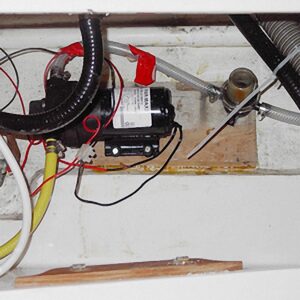 We have fitted the Jabsco  50psi deckwash pump. The water inlet is a tee connection from the loo inlet pipe; the power is taken from the circuit breaker for the electric anchor windlass, and the hose is stored in the locker under the shower compartment sink.
When needed the hose is just passed up through the hatch. This method avoids the need for a deck connection. It has been a great success. Apart from cleaning the anchor chain, it is a great help getting mud off the decks and hosing out the cockpit.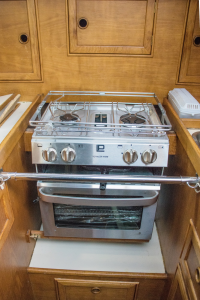 The standard Rustler 36 arrangement has a a locker that takes 2 dumpy Calor gas bottles. The locker has a drain so that any leak in the locker should drain overside.
When cruising to France, I have usually set off with another dumpy Calor cylinder which is stored on deck lashed to the Monitor supports. I also carry an empty Camping Gaz cylinder in a quarter berth locker in case I need more gas while in France.(Being empty it is safe). As a further saving measure, I also carry a 750 watt electric hotplate which can be used when on shore power (which in France is always included in the marina berthing fees). Coupled with an electric kettle, gas consumption is significantly reduced.
FOR 40 YEARS I HAVE SAILED WITHOUT A GAS ALARM. It has never been a problem But I had one fitted when I had a new cooker installed this year.
Then I burned a bit of toast – and within seconds, the Carbon Monoxide alarm was beeping away!
More seriously, I  went on board after leaving the boat unattended for a week to find the gas alarm beeping. I very carefully opened everything up, including the hatches into the bilge. There was a barely detectable smell of gas. But I knew with total certainty that I had turned off the gas at the cylinder.
With ventilation the alarm stopped, but within minutes of closing the bilge hatch, it started again.  Worrying.
Worse, the gas bottles are in a locker that should drain overside. Even more worrying.
Then I had a flash of inspiration, and checked the unused, unconnected gas cylinder in the same gas locker. The cap was screwed on, but the valve was about an eighth of a turn loose. Clearly this had been sufficient to allow a tiny flow of gas. I checked the drain from the locker was clear, so it must have been that a tiny amount of gas had gone through the hole where the gas pipe leaves the locker and drained to the  bilge where the seriously sensitive Nereus alarm had detected it.
After closing this valve properly there were no more gas alarms.
So far as I am aware, I have not touched the valve on the spare cylinder. Has it been slightly loose since the cylinder was filled? Has it been knocked accidentally? Who knows?
The key thing is that the gas alarm did the job it was intended to. I didn't think I needed one before!
[The Nereus  alarm system is mounted next to the circuit breaker board. It is wired direct to the service batteries (via a fuse). The gas sensor is in the bilge. The Carbon Monoxide sensor is at waist level. ]
The original heating system was Eberspacher. It generally performed well, but was damaged when sent away for repair in 2005. It never performed with total reliability after that.
In 2014, the heating system was replaced with Mikuni. The improved performance is most welcome, and current draw during startup is significantly less.
After Dairne's stroke, a key objective was to enable her to get on board Ariadne.
We  had  already anticipated this kind of problem by having gates in the guardrails on both sides. We also carry a two step boarding ladder that hooks over the toerail.
Getting past the cockpit hood and into the cockpit is greatly assisted by the boom gallows.
The big step is from the bridge deck to the top of the engine box. To assist this, I got my brother in law to make the step shown on the right. While essential for Dairne, it makes things easier for my ageing bones too.