Teal's History
Shortly after joining the Royal Southern YC, we were on committee boat duty when I saw a Hardy Commodore 36 in the RSrnYC Yacht Haven.
I thought it would work for us. Dairne took a little persuading! Also we would have to make several adaptations to allow Dairne to move around, and even to get on board.
We did look at other motor boats, but most required you to board via the swimming platform, and the owner's cabin was usually in the bow where you have to swing round to get on and off the bunk; both impossible for most stroke survivors.
Teal, the boat we eventually bought, had been built in 2002 and   marina based, connecting to shore power each evening. As we often spend several days at anchor that had to be addressed. Other access issues had to be addressed to enable Dairne to board and move about.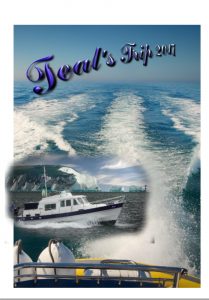 We were back in the water by April, and managed to do quite a few rallies with the Royal Southern Yacht Club cruiser and motor boat sections; and a couple of Marchwood YC Rallies as well.
We did not do much committee boat work in this year, but did make Teal available to the RSrnYC Sailability Day
The highlight of the year was a cruise in company with the Royal Southern YC, when we were accompanied by Dairne's college friend, Rowena. The weather was very patchy all year, and we had serious doubts about making the trip. In the event it was successful, and our first real holiday since Dairne's stroke.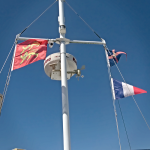 I had not planned to do a Log, and we were well into the trip before I started  collecting the material, so the early parts of the Log are a bit thin. In the end, however, I managed to produce both a You Tube video (and CD) and a pdf printed Log
Other events, organised by Royal Southern YC and Marchwood YC are recorded in the flickr albums