For reference, these are the areas we have cruised
Area
Year(s)
Solent Only

Channel Islands

Scillies

Ireland

France, N Brittany

France, Iroise

France, S Brittany

France, Charente

France, Gironde

2012, 2013, 2014, 2015

2008,2011

1997,2003,2005,2009

1998,2003,2005,2009

1995,1996,1999,2000, 2004,2006,2007,2011

1995,1996, 1999, 2000, 2004, 2006, 2007

1995,1996, 2004, 2006, 2010

2004, 2006, 2010

2010
We managed a summer cruise every year since Ariadne was built in 1995 until 2010, but I did not really produce narrative logs until 1998 when my son  Iain and friends took the boat to Ireland. Until 2001 our cruises were limited to 3 weeks annual leave, but thereafter we frequently spent 3-5 months away on the boat. 
The cruises have generated many fascinating photographs. These have been incorporated into text Logs, which have evolved over the years. The later ones include track charts and material collected en route. In 2003 our Log won the RYA Cruising Log competition, and they have got better since then as computer editing power, and my own skills have evolved. 
There are photo albums of most cruises (and many other expeditions and events) on my flickr account. Some cruises also generated a You Tube Video.
To see a specific Log, select from the menu on the left. The table above may assist in selecting the Logs you wish to explore further.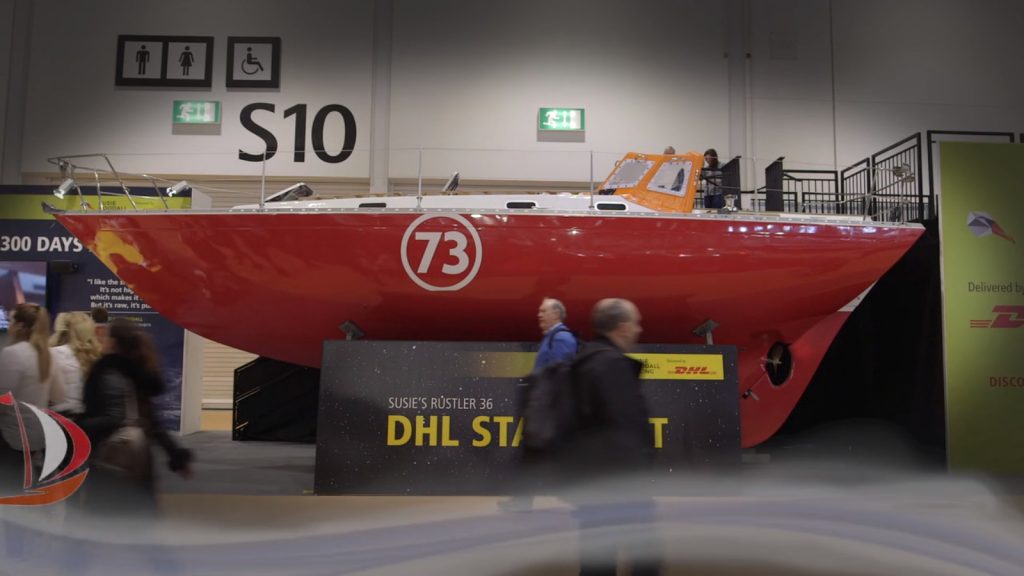 [
Ownership transferred to Susie Goodall in the Spring of 2016. She remained in the yard at Marchwood for most of the summer while Susie checked everythig. Late in the summer, the boat was launched and Susie went for her first sail as owner. The album accessed from the button above contains pictures I took that day,
During 2016/7, Susie took Ariadne on an Atlantic triangle as a proving voyage. She discovered weaknesses that we did not know were there. On her return, Ariadne was put into a shed at Rustler Yachts in Falmouth and transformed into DHL Starlight. Many major changes, some required by the rules, others were Susie's choice. At the 2018 London Boat Show the refurbished boat was launched to the public. he video above show Susie guiding her mum around the boat.
I was surprised how the character of the boat had, on the whole, survived the essential changes to prepare the boat for its epic Golden Globe adventure.
On July 2nd, The Golden Globe Race started from Les Sables d'Olonne in Biscay. The rules meant that all the boats were less than 36ft, long keel, with rudder attached to the keel, no modern navaids (such as GPS). Comms were mainly by SSB radio, though a weekly satphone chat with race control was permitted, and Race Control reservec the right to warn of dangerous weather (the competitors could not carry laptops). In short, navigation was by sextant and paper chart.
Early in the race it looked like the Rustler 36s would be dominant , and rounding Cape of Good Hope, Susie and DHL Starlight were 8th. Two boats were destroyed in a gale, and here were other retirements, so by the time Susie reached Hobart (which was a compulsory anchoring stop to drop off film) she was in 4th place and looking to catch up to 3rd.  But it was not to be. The leader, Jean Luc Van den Heede (his boat used be called Mojito) was pitchpoled and his rig was badly damaged. But the 71 year old managed to climb the mast and effect repairs. He continued racing with a 1000 mile lead. Behind, Mark Spats in second place was also rolled by a big wave, but his rig survived. Susie was not so lucky. The boat was pitchpoled 2500 miles west of Chile, and the rig  destroyed. Susie was concussed, but managed to clear away the wreckage. Although leaking a little, the hull stayed afloat for 2 days before a Chinese cargo ship managed, with brilliant seamanship, to get alongside and take Susie off. DHL Starlight/ Ariadne must be presumed to have sunk. A dramatic end to a fine boat!
If Golden Globe Race produce a video of the event, the link will be added here.
Although Dairne was getting a little stronger after her stroke in 2012, getting to and from the boat was still a bit of a struggle. Once the  boat was heeled she could not move between cabin and cockpit, which was extremely limiting. Despite these problems, we managed to be a finishing boat during the RSrnYC Harken May regatta, and attended rallies at Yarmouth, Beaulieu and Bembridge, But we were not getting a lot of use from the boat.
When I saw a Hardy Commodore 36 on an adjacent berth at the RSrnYC Yacht Haven, I thought it would solve many of the problems. Having researched the motor boat market, we found Teal, also a Hardy Commodore 36, at Poole. After survey, and fitting a generator, we bought the boat. Ariadne was brought ashore in September, and made ready for sale.
Eventually, an offer was made by Susie Goodall, who wanted the boat for the Golden Globe race in 2018.  We had to wait till the spring to complete the sale, so I kept Teal at the Royal Southern over the winter.
From a sailing point of view, 2014 was poor. We started the year with a visit to Greece. It was a great success despite the fact that Dairne was not too well – we still had not resolved the changes needed to her treatment after the stroke, and avoidance of side effects from the treatment of her back pain.  The year was dominated by the celebration of our 50th wedding anniversary, which we celebrated to the Royal Southern Yacht Club, which, subsequently, we joined.
Otherwise, there was little more than weekend sailing on Ariadne
This would be a key season in which we would find out whether Dairne could still enjoy the Rustler, Ariadne. We had to pick our weather, so there were few really suitable weekends. Epic voyages were not on the agenda, so I had joined Southampton Camera Club and trying to up  my photographic game. I also bought a model radio controlled laser model which proved to be quite entertaining.
I had acquired an 8ft   Walker Bay with mast and sails. Not only a much lighter tender than my previous heavy dinghy, but it would provide something for me to do while were in various Solent anchorages.
Dairne could not use the dinghy, but we had already adopted the practice of bringing Ariadne alongside the Club pontoons and getting Dairne to the boat mainly in the wheelchair.
In the middle of the year, Iain, Clare, Harry and Alice came to see us for s short visit. They had made a major effort for Dairne's benefit. We managed to have a few days sailing including a day in Newtown which was our favoured destination throughout the year
One of the best aspects of the year was the support we had from many friends. Ann and Marc Plummer called into Chichester on their way to the West Country, and we met them there; John and Mary linked up with us in Newtown,
Dairne's stroke happened in February, just after we got back from  S America. The rest of the year was spent achieving recovery goals. She did manage to drive again, but quickly decided her brain was no longer agile enough, so she surrendered her licence. The other main goal was to get on the boat again. That required determination and ingenuity, and the help and support of friends all over the world. The wheelchair was new to us, but we soon learned how to use it. Dairne still had to struggle down the passarelle at Marchwood, and we used stepstools, and extra half steps inside the boat to make access possible.
Our plan had been to sail to Falmouth so that Gavin Watson from Penrose could fit new sails to Ariadne. Clearly that was not possible, but Gavin came up to Southampton and, with help from Majella Bushe, fitted the new sails, the best we had ever had.
Towards the end of the season we were able to visit some of our favourite Solent haunts including Newtown and Chichester.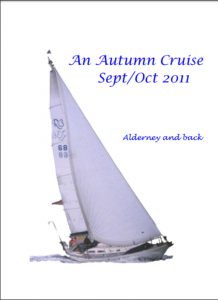 A busy year. After getting back from New Zealand, we launched Ariadne and had a few weekends sailing. Then we were off to Norway on our Hurtigruten cruise in July. Just after we got back,  the Rustler Association had its annual dinner at the Royal Yacht Squadron. Alistair and Carol Bell were our guests on Ariadne for that event.
We just had time to pack in a quick cruise to Alderney before we put Ariadne away for the winter because at the end of November we were away to New Zealand for Christmas.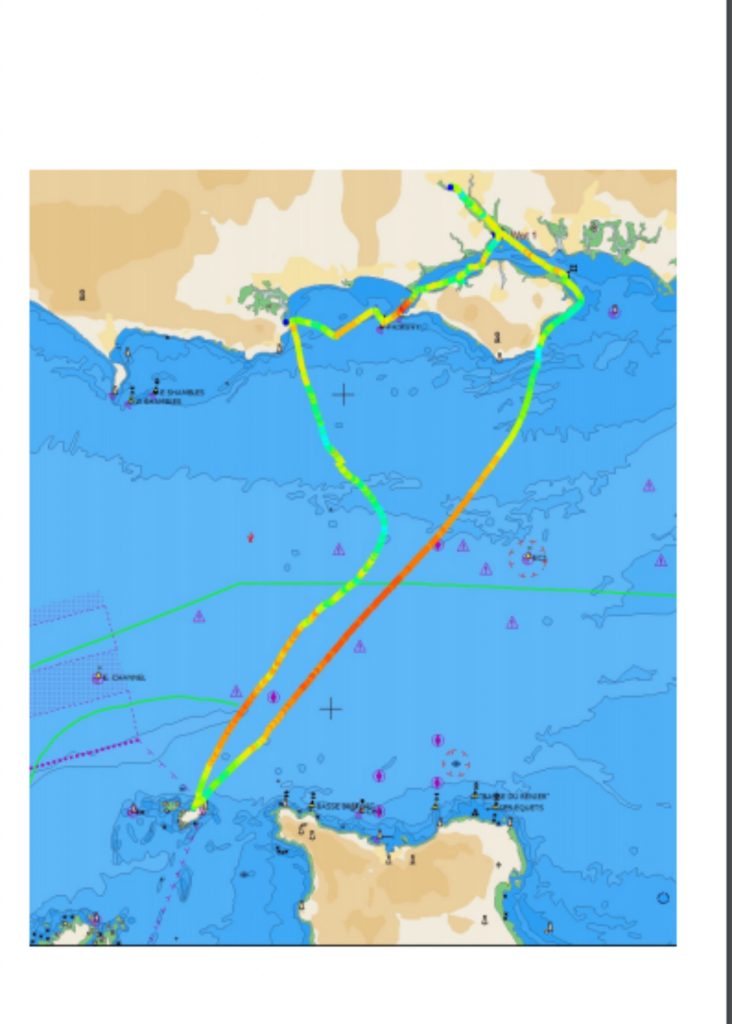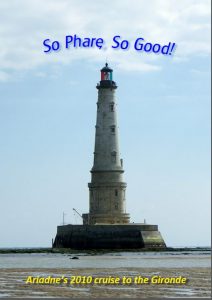 Our goal was to visit the magnificent lighthouse of Cordouan on the estuary of the Gironde. This  was probably our best Biscay cruise.
A good start to our cruise to France. We proceeded down Channel to Falmouth, and across on a fast reach to L'Aberwrach. After some bad weather in L'Aberildut and Lesconil, we visited Port de la Foret, Ster Vraz on Belle Isle, La Turballe and Joinville on Ile de Yeu.
Despite some concern about port availability after the winter storm called 'Xynthia' wrecked La Rochelle and damaged Bourgenay and Les Sables d'Olonne, we made our way down the islands to St Denis d'Oleron.We spotted a weather window and succeeded in reaching Cordouan.
On our return to Ile d'Oleron, we picked up Sue from La Rochelle (where they were allowing a one night stopover if you had a reason to be there). She stayed with us for a week during which we visited Rochefort to see the progress on building the frigate Hermione. (Update 2015: video of the completedL'Hermione at sea can be seen by selecting from the menu at the top of the page) There followed a gentle cruise back up the mainland coast calling at many ports and meeting several friends on the way. The wind was persistently from the north, usually north west, so progress was tricky. In the mornings the winds were light, but that meant motoring and in the afternoons the sea breeze effect often produced F5 winds on the nose. So we tended to choose the days when there was a slant that meant we did not have a vigorous beat.
We visited several new places, and one of the most interesting was a lunch stop at Ile aux Moutons
Towards the end of August the weather showed signs of deteriorating and we were positioned in L'Aberildut for a cross Channel  dash when we heard Dairne's mother was not well. So next day we motored for 7 hours before the breeze filled in, after which we had a sparkling 11 hour reach to Falmouth. Effectively, our cruise was over. Dairne hired a car to get back home, and I followed a few days later, leaving Ariadne in the care of Marc and Anne from Midday Sun at the Ruan Pontoon in the Fal.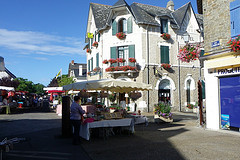 The tailpiece is that I returned with a passage crew comprising Roy Dowman from Marchwood YC and Bob Comlay, one of very few people to have completed 2 cruises with Bill Tilman. We had picked a bad week, and were working our way round SE winds most of the time. However, we had a better-than-expected sail from Helford to Fowey,where we took part in a small, but successful, Rustler rally. There followed a day of mainly motoring to the Dart and finally a frustrating day where the wind was not strong enough to allow us to sail properly in the slop left over from the day before, and the rain came down in stair rods. But we got back to the Solent, and I am very grateful to a wonderful pair of guys for helping me to achieve it.
Reflecting on the cruise, one bonus of cruising in France was the plentiful availability of good quality wifi hotspots in virtually every marina. Many were free, but in Vendee they charged 1€ per day (which compares very favourably with the usurious rates in the UK). In Camaret they use unsubsidised Netabord, which looked expensive at 14€ for 24 hours. But as that is usage time, not elapsed time, it lasts for several days –even if you are using it for listening to radio 4!.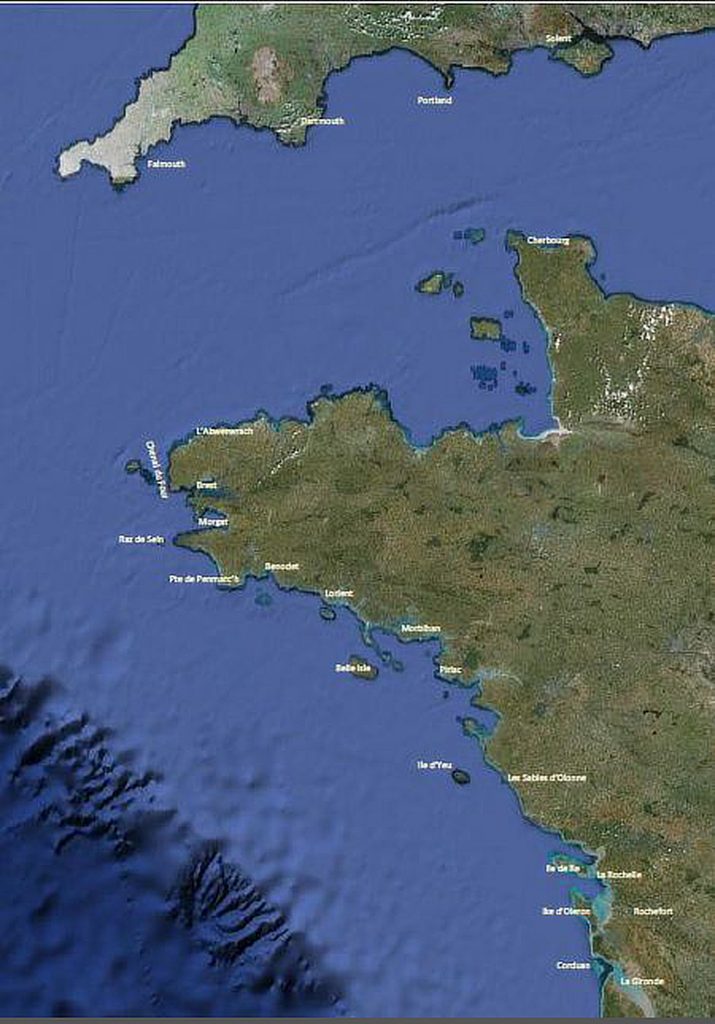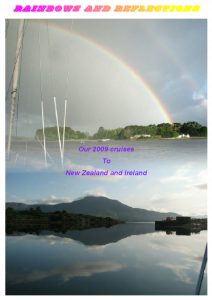 Having had a good cruise in  New Zealand at the beginning of the year, commissioning could not start till mid March.
The broad plan was to go to France, but carry charts for Ireland, with the final decision when we got to the Scillies. We got away in mid May, and after a cold trip to Falmouth made our way out to the Scilly Isles. In view of some optimism from the Met office, we opted to go to Ireland  and try for the west coast..…
Eventually we got as far as Clew Bay on the west coast, which had been our target. The wind kindly turned round and brought us back to Dingle. Both crossings of the Shannon estuary were fast reaches enabling us to cover the 81 miles between Aran Islands and Dingle in daylight – great sailing!
Then it all turned a bit sour with several gales in July. But we found good shelter  for each of them in Kenmare, Bantry and eventually up the Ilen River near Baltimore.
On the way back to the Scilly Isles, I got a reefing line round a winch, and it broke when we gybed; and in the Scilly Isles the cabin heating packed up and the outboard would not start. The reefing line was repaired in Falmouth with the help of Marc from Midday Sun.
The weather improved steadily and we had some glorious sailing along the South Coast after motoring from the Scillies to Helford.
In total we covered 1495 miles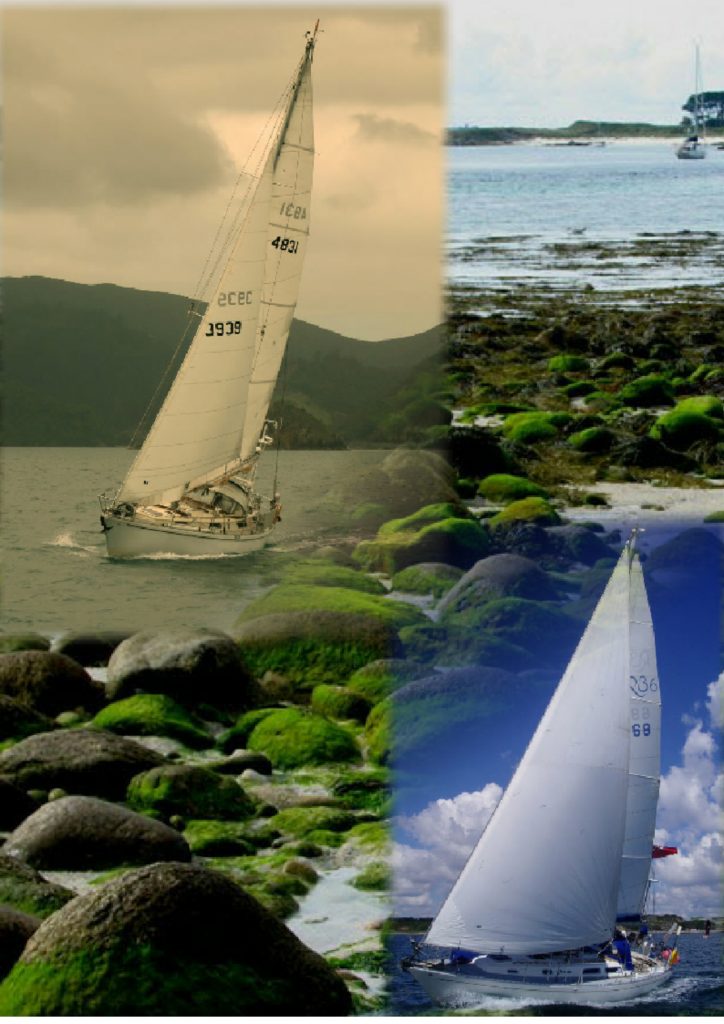 This was a strange year, divided into several episodes. We went to see our sailing friends, Peter and Maureen Shaw who live in the Cotswolds. It was a delightful episode.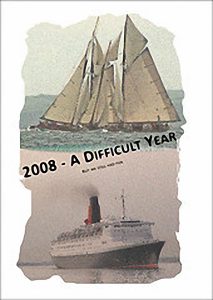 The Spring in Southampton was unusual because of snow, and we managed to get the boat launched in time for a Spring Cruise. We had hoped to go the France, but when we got to Cherbourg, the French fisherman had blockaded the port with a cable across the harbour entrance. So we went to the Channel Islands instead. With unsettled weather, a diesel leak from the engine, and no refuge ports available in France, our plan to go to Chausey, the Minquiers, and The Ecrehous had to be abandoned.
In early June, Iain, Clare and the twins, Harry and Alice arrived from New Zealand. We had nearly a week with them on the boat in the Solent before they went off to Lincolnshire and Norfolk to see the rest of the family. The weather was not kind.
Finally we got away on our cruise in mid July. The weather was not encouraging. Finally we got to Falmouth hoping to get across the Channel to Brittany. We were there two weeks, mainly hiding up the Fal, and meeting friends there.  The highlight of our stay was a day out on Midday Sun, a Tradewinds 35, to see the Pendennis Cup, a race for the large yachts, including several schooners. We got some really good pictures
After getting our diesel leak fixed, we gave up any idea of France, and made our way home,
The highlights of the tail of the season included a trip by Dairne to Greece, while I had an interesting single handed cruise round the Isle of Wight (included at the end of the W country set).
This was the first year we had the instruments and AIS connected to the laptop. Coupled with the new Nobeltec C-Map MaxPro software, it proved a powerful combination.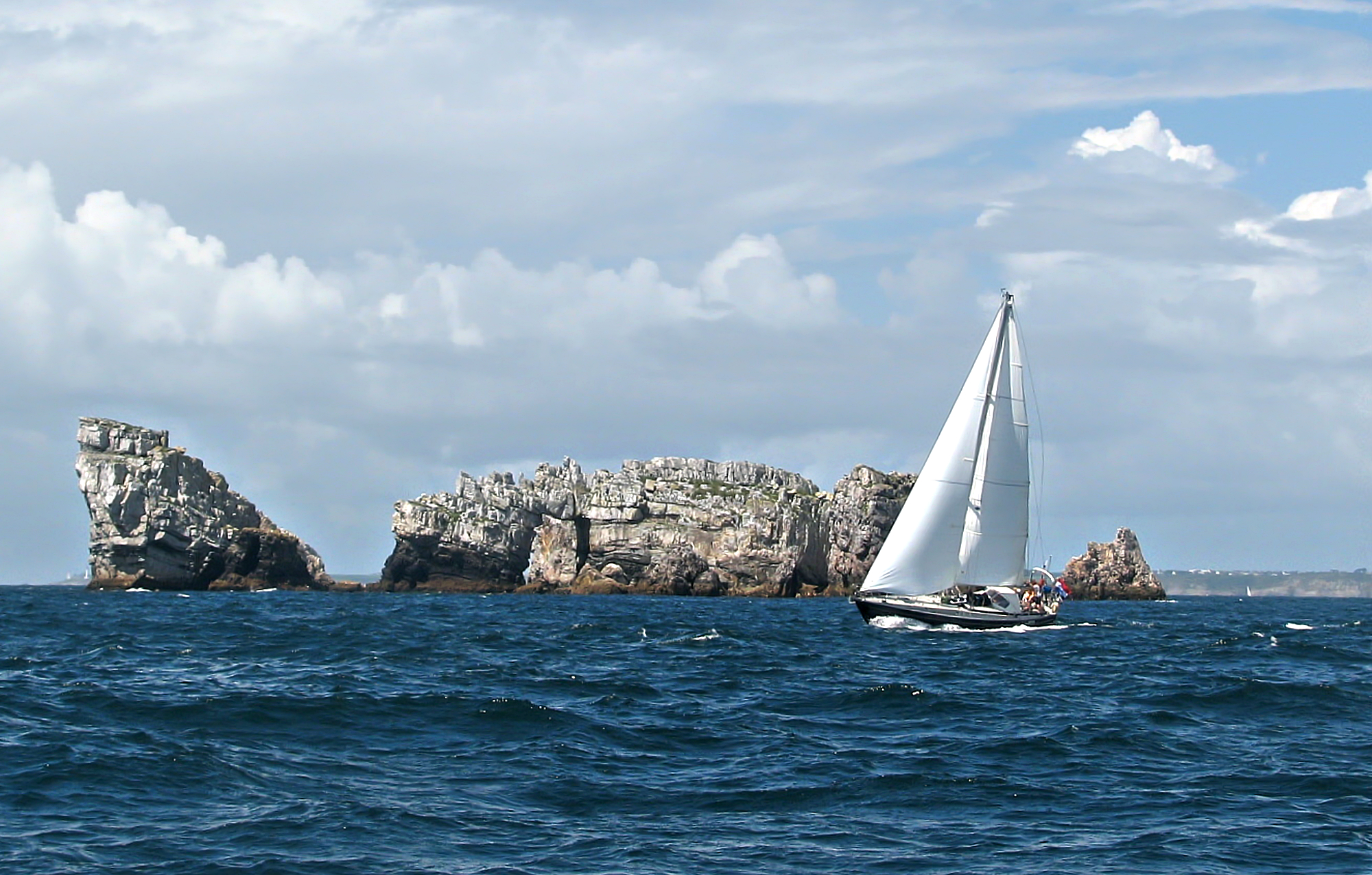 The year started badly, and launching was delayed by late delivery of a replacement anchor winch from Italy. Then we had bad weather, and had to replace the loo piping, as well as getting a diesel leak corrected. Then more bad weather, so it was mid July before we got away.
After getting down to Falmouth, we saw a weather window to get to L'Aberwrach in France. On the passage, I got the Picture of the Year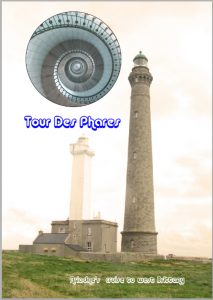 The trip through the Portsall passage between L'Aberwrach and the Chenal du Four was a highlight of the trip (see menu at the top of the page). During the night we had seen a wonderful moonpath, which I have recorded on flickr. Later, as we left Camaret, our passage through the Tas Des Pois was particularly interesting
Already, it was so late in the season that we took the decision that we would not go beyond the Raz de Sein, but explore the Baie de Douarnenez and the islands. This worked out quite well, but the real break came when we saw a weather opportunity to go out to Lampaul on Ouessant. I wanted to see the lighthouse museum there, as well as see some of the great Ouessant lighthouses.
On the way back we took a vedette trip out to Ile Vierge. It was exciting, (see menu at top of page)
Our cruise was becoming a Tours des Phares, which became the title of the Log.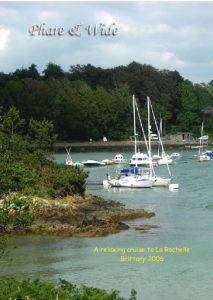 Probably one of our best cruises ever, we got away by 11th June, and with a short stopover at Studland went direct to L'Aberwrach in Brittany. We worked our way gently down to La Rochelle, stopping off at Pornic to enjoy a few days with a Rustler friend, Claudine, who sailed with us to Ile de Yeu.
At La Rochelle we spent several days in company with Danae(Ruby and Terry Eagle) before venturing up the Charente to Rochefort  to see the wooden frigate, Hermione,  being built there in a drydock. (Update 2015: Video of the comletedL'Hermione at sea can be seen here) But it was so hot that we returned to St Martin de Re for Bastille day (July 14th) in company with an MYC boat, Passager. There was some excitement when the lock gate jammed on a falling tide, and we nearly lost all the water in the dock – we all had lines from the masthead, but only dried about 6 inches.
Then it was a gentle potter home along the N Brittany coast, the only excitement being a rather frightening grounding at Brehat. On the way we called in at Jersey to see our past neighbours, George and Fay, and Julian Rogers, an ex colleague from my aviation days. Throughout the trip we bumped into other Rustler friends – it really is quite a social community.
As usual, I was carrying a laptop on board, not linked to the instruments, and I had been provided with a small plotter by C-Map on which I could record actual tracks. This coupled with C-Map PC Planner and new Serif dtp software enabled me to produce a much higher quality paper Log, and to make use of various tricks to illustrate the leading marks from Malcolm Robson's superb (but out of print) pilot books. I also experimented with using video from my mobile phone, and simulated video using Microsoft Flight Simulator to add to the DVD that I produced. I was quite pleased with the result. (Unfprtunately there are one or two issues that mean I have not published this video. Maybe I will get round to sorting them out one day)
I was also experimenting with a more advanced stitching program, so was able to produce a really good back cover for the Log by stitching tiles of C-Map charts together – I think there were about 16 tiles.
Coming down through the Chenal du Four. We had seen many lighthouses, so the Log was called "Phare and Wide".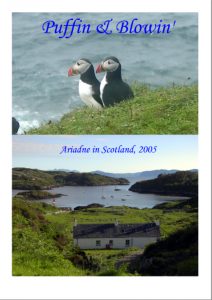 A heavy winter programme preceded what was planned to be a major expedition to Orkney, with the return leg being down the east coast to keep under the lee of England during the normal July westerlies.
A new fridge,and weatherfax were the major structural projects, but niggles related to the gas kicker, rebuilding a laptop operating system, and teething problems with the weatherfax delayed our departure till 7th May.
The boat worked well, except for a 3 week delay in Milford Haven while the Eberspacher cabin heater was rebuilt – twice! And later we thought we may have a bent prop shaft and had to limit engine revs for the second half of the trip (It later turned out to be an alignment problem caused by sagging of the rubber engine mounts).
The Northbound highlights were the welcome received at Down Cruising Club in Strangfrord Lough and in Carrickfergus; the clarity of the water at Gigha; Acarseid Mor in South Rona (which is still our all-time favourite anchorage); and, above all, visiting the Shiant Islands, about which we had read in a book by Adam Nicholson, who owns the islands.
After an enforced 3 day stay in Loch Laxford waiting for weather (where weatherfax from the German Offenbach station was the only way we could get weather maps), we crossed to Orkney, passing the Old Man of Hoy on our way to Stromness. There we hired a car in association with Edi and Horst who had sailed from Hamburg. Together we explored Orkney Mainland visiting many of the historic sights, including the incredible Skara Brae, St  Magnus Cathedral and a number of museums. The spirit of Scapa Flow is never far from you here.
After a fascinating trip to Westray, where the harbourmaster cooked 2 lobsters for us (£11.50!), we made our way south. The highlights southbound were calling out the Wick lifeboat after we collected some unmarked fishing gear round the prop (the subsequent drying out to check the sterngear was more alarming); entering Lossiemouth with an onshore swell; visiting friends near Inverness; and the trip down the Caledonian Canal – we had abandoned the East coast because a cold grey NE wind persisted and looked likely to remain.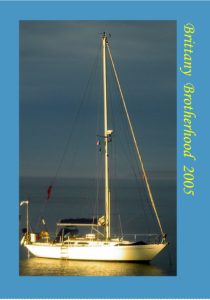 After a successful Spring cruise to Alderney and Sark, we aimed to get away by mid June, but weather held us up for 2 weeks. Thereafter we had a successful cruise in easy stages to La Rochelle and back to the Solent by the end of August.
Southbound we were stuck in Portland for several days, so grabbed a weather window to leap direct to L'Aberwrach. Then, a quick dash down the Chenal du Four before being stuck in Camaret for several days while the weather settled, and David Colquohoun in Santana caught up with us. He had John Barker, one of Dairne's Kiwi relatives crewing for him. As an antidote to harbour rot, which was becoming a problem with all the bad weather, we sailed into the Rade de Brest, passing the gathering Brest Festival fleet, to anchor at Le Fret. John went home while David waited for his next crew to arrive.
It was mid July by the time we moved further south into hot weather, through the Tas des Pois, the Raz de Sein and on to Belon.
At Port Louis we again met up with Santana, following which we sailed in company to Houat. David was short of time, so he wanted to press on south, while we pottered along the coast calling at Piriac (where we met Terry and Ruby Eagle inDanae), Bois de la Chaise and Pornic, where we arranged to meet Rustler friends, Rod Kennedy and Claudine.
After a short hop to Port Joinville on Ile d'Yeu, we met up with  Roddie and Dorrie Wade Thomas  in their Rustler Siosanoir, on their way back from Spain. All these meets were arranged by SMS text. I called this loose cruising in company the Brittany Brotherhood, and this became the Log title.
Pressing on South, via St Martin de Re, we linked up again with David in Santana at La Rochelle. His crew had had to go off for a week, so David day sailed with us, and we took both boats over to St Denis d'Oleron for a couple of days.
The highlights of the return passage included encountering the original Pen Duick under sail near Ile d'Yeu; swimming in the Morbihan; visiting the submarine pens museum at Lorient, and an impromptu Rustler rally, also at Lorient.
After a short but fascinating stay at Ile de Sein, the weather started to go downhill. We were variously delayed at Camaret and L'Aberwrach.
During a 36 hour break in very bad weather we made a dash direct from L'Aberwrach to Poole, with a daily run of 133 miles. That trip produced the Photograph of the Year.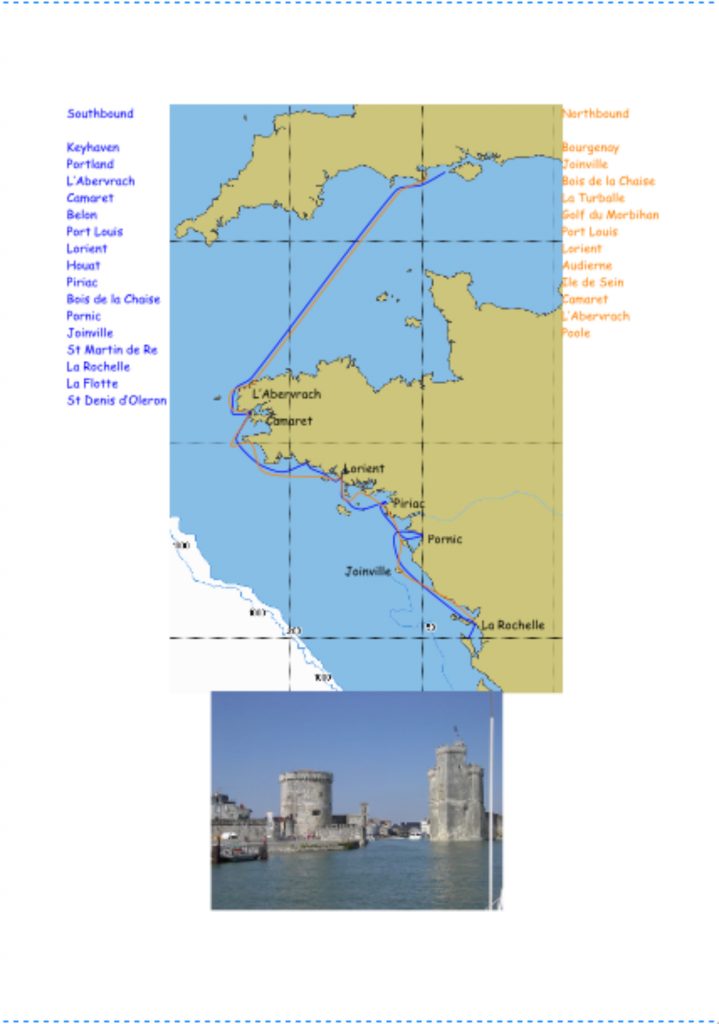 Around Ireland very slowly
And mostly to windward!
Although we left in late May, it was Mid June before we got to Kinsale in Southern Ireand after battling down Channel, hiding from adverse winds for a week in Falmouth, and a beautiful overnight sail from the Scillies.
We then pottered slowly towards the great bays of SW Ireland, Bantry Bay and the Kenmare River. Highlights were Glengarriff, Lawrence Cove (Bere Island) and Derrynane. With only 2 people on board, visiting the Skelligs was not possible, so we pressed on to Dingle, the usual westerly limit for UK cruising boats. Hereafter we would be in wild and wonderful coastline.
After an 80 mile overnight dash across the Shannon estuary, we slowly worked our way round to Ballynakill, dodging bad weather. The rest of Europe had a massive heatwave, but we experienced a series of depressions that just swept up the W Coast of Ireland. When the wind direction was favourable, it tended to  be too strong. But the rewards were there too. That the people were friendly goes without saying. The anchorages were stunningly beautiful. For example we were the only occupied yacht in Ballynakill which is about the size of Poole harbour. A short stay at Inishbofin, one of the offshore islands, revealed that there were other boats circumnavigating Ireland, although we had not seen any at sea.
By the time we got to Lough Swilly on the north coast, we had been more than 3 weeks without going alongside – there was nowhere to do so. Water had to be carried on board in water carriers. Shops for fresh vegetables and milk were rare.
By comparison, the southbound leg along the east coast of Ireland was less interesting.
On our passage from Kilmore Quay back to the Scillies we encountered a large pod of Dolphins. The trip back up the Channel was relatively uneventful.
It was a shortened version of this pdf Log (to meet the competition rules) that won the RYA Cruising Log competition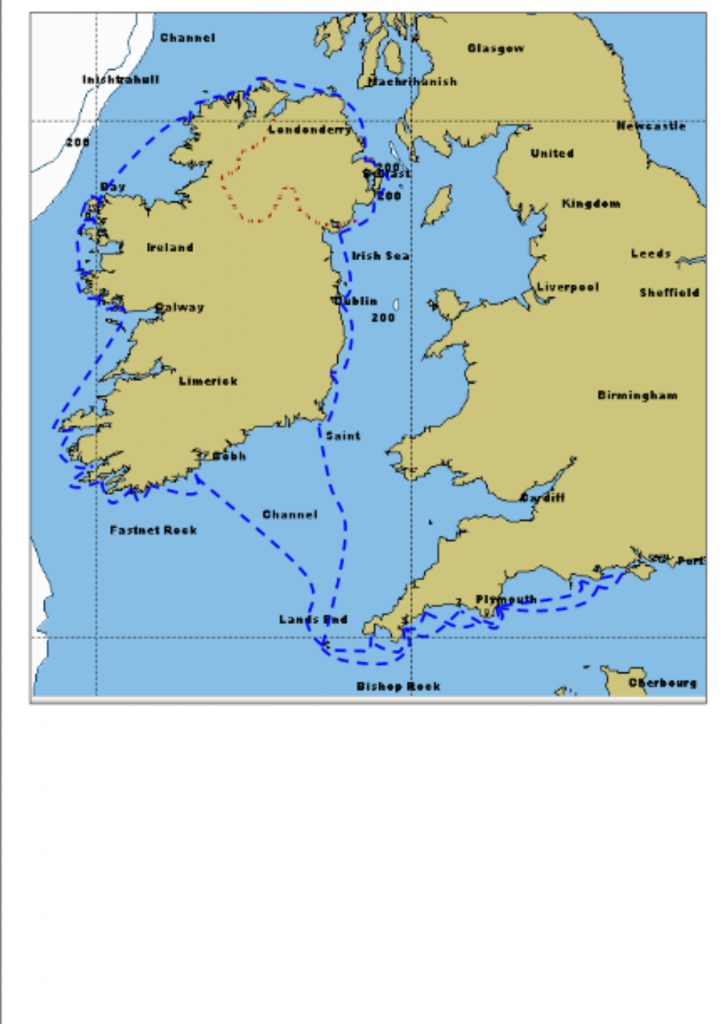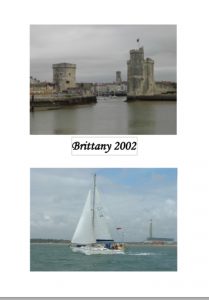 Having rushed the boat into the water after a trip to New Zealand, I simply did not  have the stamina to produce a Log. I have regretted it ever since, Instead, I just produced a photo album, with embedded Raychart routes and weather maps.
We originally wanted to go back to Scotland, but Dairne was not at all well over the winter, so warmth was needed. The next plan was to go to Spain. However,  our trip to New Zealand to see the Antipodean branch of the family – including son Iain and his wife Clare – had to be scheduled late, so we were not back until late April. I still had to fit the wind generator, and check out the new deckwash pump, so we were late getting going.
As a result we decided that this year would just be a convalescence cruise, seeking sun, seafood and sailing. And that is exactly how it turned out.
We made some fairly large leaps, stopping only at Studland and Dartmouth, before making the dive across the Channel through the Chenal du Four to Camaret, near Brest, where we met Ruby and Terry Eagle in their Rustler, Danae. Then through the Raz de Sein to Loctudy and Benodet, where we saw no less than three other Rustlers, Saol Mara, Jessamy and Nutmeg.
A period of windy weather was forecast so we dived round to Belon where we sat out the weather for a few days, and enjoyed riverside walks and what must be one of the best seafood restaurants in France.
Then we went on down to La Rochelle, stopping for a few days at Belle Isle, and with overnight stops at Ile de Yeu and Les Sables D'Olonnes.
La Rochelle was everything we expected, including the spectacular entrance to the Vieux port quayside markets, seafood and wine – and unbroken sunshine for the next three weeks.
Here we finally linked up with Santana, another Marchwood YC boat and sailed in company with them for over a week.
The route back involved stops at St Martin de Re, a quaint village with hollyhocks growing everywhere, St Giles de Croix en Vie, L'Herbaudiere, the island of Hoedic, and a few days in the beautiful Vilaine River. Here we spotted Wild Swan, yet another Rustler. Wild Swan belongs to Rod Kennedy, who we had not seen since his wife's funeral two years earlier. We left a note on board.
Our first attempt to leave the Vilaine was abandoned because of strong winds on the nose, but the next morning we had a beautiful beat into the Gulf of Morbihan, where we visited Ile de Bono and Vannes. Here Santana had to leave to get back to England. It had been wonderful to sail in company – the two boats are very compatible.
After another day in Morbihan we started the rest of the trip back by visiting the island of Houat for lunch before overnighting at Port Haliguen. Who should moor alongside, but Rod Kennedy in Wild Swan, with his new partner Claudine? It was serendipitous, and great fun. We sailed together to Port Louis, and then on to Lorient, where Wild Swan would stay for a while for the Festival there. We were also taken to the cottage of Janet and Tim Slessor, who bought Hobo, yet another Rustler – which they keep at Lorient. It was a delightful day away from the water.
The wind was a little fickle, but we pressed on, mainly motor sailing, to Corcarneau and back to the Odet River, where we anchored in one of the small inlets. Here we had a series of disasters resulting from a blocked loo pipe that eventually had to be replaced, in the course of which, the shower room sink was damaged and had to be patched up with fibreglass.
From there, our course took us back round Penmarch to Audierne; through the Raz de Sein to a delightful bay near Morgat where we anchored; and on to a spectacular anchorage behind the Tas des Pois, those impressive rocks south of the Goulet de Brest. By now, we needed stores, so a short trip to Camaret solved that issue. Once again a spell of doubtful weather was forecast, so we went up the Rade de Brest to the Aulne River and the delightful town of Chateaulin.
A brief pause at the Anse de Berthaulme was taken before passing back up the Chenal du Four to L'Aberbenoit, where we finally had to buy a Gaz cylinder. From there we made the coastal hop to Ile de Batz, going ashore for wine and cheese. We were a bit low on fuel, but forecast brisk winds led us to attempt a direct crossing from Roscoff instead of refuelling at Morlaix. The forecast was wrong in both strength and direction so we opted instead to go into Treguier, from which we sailed direct to the Solent.
We had left on the 22nd June, and returned on the 21st August. A very satisfying cruise, with the two periods of cruising in company being highlights.
While away, we had used SMS text messaging to keep in touch with home, and with Iain and Clare in new Zealand. I also made extensive use of the internet cafes for checking my emails, and getting weather maps. This worked fairly well, and was very cost effective.
While away we heard about bad weather in England, Scotland Ireland and the Low Countries. We also met several boats that had come back to France from NW Spain where the weather had been dreadful. It seems we picked the right cruising ground this year. All our goals had been achieved, but mainly we had found sun and seafood, and done some interesting sailing.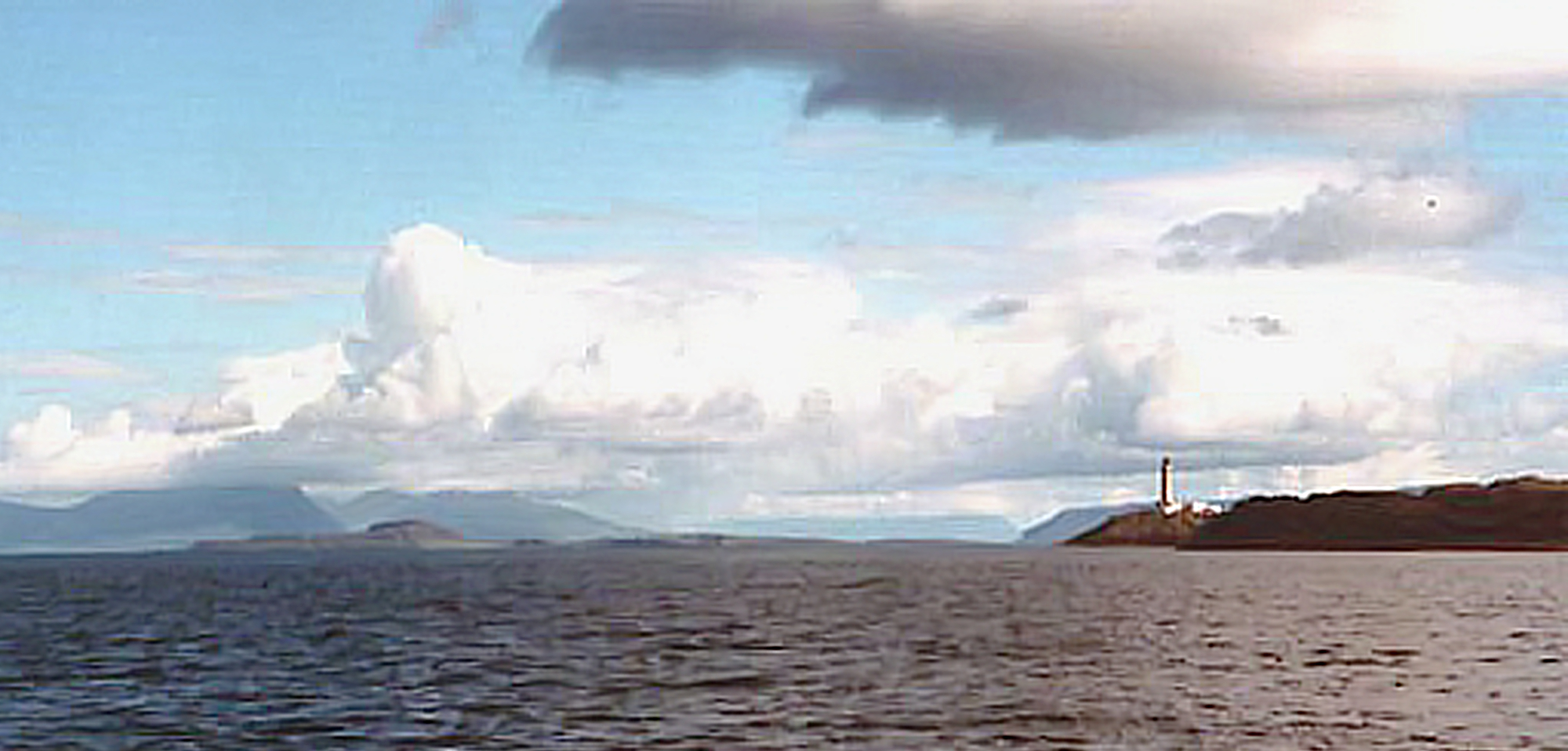 Scotland
"But to enjoy the sights [of the Highlands] something must be suffered. Beauty like this is rarely shown except to those who are ready to dare much and endure more" – William Cowper, Sailing Tours,    Vol 5, 1895.
Oh, how true! This was my retirement cruise. On 31st May I retired; on 3rd of June we were on our way! Down Channel via Salcombe, Falmouth and Newlyn, we made our way across the Bristol Channel to Milford Haven where we met our friends Nan and Bill. After a brief stay we motored in a flat calm all the way to Troon, 40 hours with the engine on – but it got us to our cruising ground. 10 years earlier, I had promised myself that we would sail past Ailsa Craig, that magnificent beacon at the mouth of the Clyde. Click here to see a far better picture of Ailsa Craig than I managed to get.
A trip into Glasgow to solve a mobile phone and computer problem, while a gale blew; then across the Firth of Clyde and through the Crinan canal. This was another long-held ambition achieved. Thereafter we crept tentatively through the Sound of Mull, and round Ardnamurchan.   The excitement of rounding Ardnamurchan, and seeing Skye and the small Isles  for the first time must be a unique experience. Thereafter, we went up the Sound of Sleat, through the Kyles and on to Acarseid Mor, which is likely to remain our favourite anchorage for a long time. The weather was not kind, so we sheltered in Badacro before returning south to Oban to pick up Iain and Clare who had returned from New Zealand to share the cruise with us.
Together we did the Oban and Talisker legs of the Classic Malts cruise, but omitted the last leg to Lagavulin as this would take us too far south too soon. Instead we made our way out to Loch Skiport and Loch Boisdale in South Uist. A blistering sail to Coll was followed by a grey passage past Staffa and the Sound of Iona to Tinkers Hole. We completed the circumnavigation of Mull before returning Iain and Clare to Oban.
We spent a few days in company with our friends Mike and Rosemary, parting company at Craighouse. Then we crept through the narrow Ardmore Islands to Lagavulin, before making our departure southward.
Bangor proved to be an excellent, but quite expensive, place to restock; and we had a wonderful welcome at the Strangford Lough Sailing Club where we sat out some rugged weather.
Our intention to go direct to Milford Haven was frustrated by a worsening f/c so we diverted to Holyhead. Once the weather settled, we made a 3-day run direct to Helford. The battery of ships lights that we saw as we rounded Lands End reminded us how few ships we had seen since leaving the Channel.
Thereafter it was an easy run home to the Solent.
One lesson from this cruise was that at £150 to develop the film, it would be cost effective to switch to digital photography, which we did for the following season.
Scilly Isles
Having seen in the millennium at Newtown, the boat was ashore for a refit. There were a few weekends in the Solent, then in late June we set off. The tides down Channel were such that we had to leave at first light to catch the tide at each major headland, hence the Log title.
We had light or favourable winds down Channel, passing south of the Wolf Rock light before raising the Scillies in moderate visibility. Carefully we worked our way into Porth Conger the northerly anchorage between St Agnes and Gugh.
We spent several days pottering round the area, including a tripper boat trip round the Western Rocks; feeling our way across to St Helens and into New Grimsby, spending the night in St Helens Pool, and going round St Martins.
It was pleasant sailing back to Helford, then on to the Yealm. We decided to pop over the Channel to Treguier, and it proved to be a more docile trip than we had been led to expect by the forecasts.
After a few days in Treguier, waiting for some bad weather to blow through, we made a direct passage back to Poole, just weathering the the Channel Light Vessel, and crossing the westbound separation zone.
We used internet cafes to collect weather maps from BBC or Halo, and the charts were mainly drawn using Microsoft autoroute, or by scanning from chart or pilot book when we got home. Tracks were drawn on using PowerPoint.
Iroise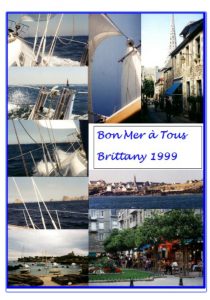 The 1998 Log was a 'special', and I had not intended to do another. But when we were in France, Cross Corsen were signing off their vhf weather forecasts with the phrase 'Bon Mer a Tous!'. So I had a title for a Log. All I had to do was put it together.
We had added a Monitor windvane, but otherwise the boat was basically unchanged.
In previous years we had raced though the Chenal du Four and the Raz de Sein. So we decided that this year we would explore that area, possibly including Ushant and the Rade de Brest as well. As usual, we went west along the English coast. The crossing from Salcombe was marked by incredible visibility, with Lizard, Le Stiff and Ile Vierge lights all being visible at 2330. The 100 miles took 20 hours.
Conditions looked favourable for going to Ushant, but off the Basse Paupian buoy we ran into thick fog. Checking the plotter against the radar we pressed on down the Chenal de Fromveur, not seeing any of the marks, but charging at over 10kts SOG. As we approached Le Jument, the fog lifted so we took the fisherman's short cut using Malcolm Robsons marks and the plotter. Our stay in Ouessant (Ushant) was memorable.
After a brief visit to Douarnenez, we returned to Camaret, and made our way along the Brittany coast to the Baie de St Malo before returning home via Iles Chausey (though weather meant we only made a lunch stop there) and the Channel Islands.
We had to get back a bit early as we had undertaken to help a team from Alice Springs who had chartered a Farr 40 to compete in the Fastnet. We had a lot of fun with them, and treasure our honorary membership of the Alice Springs YC (Oh yes! It does exist!)
A week later, we took son Neil and his family almost across the Channel to witness the total eclipse. We had used the Halo weather site to see where the cloud sheet would be. It turned out to be about right, and we got a good view.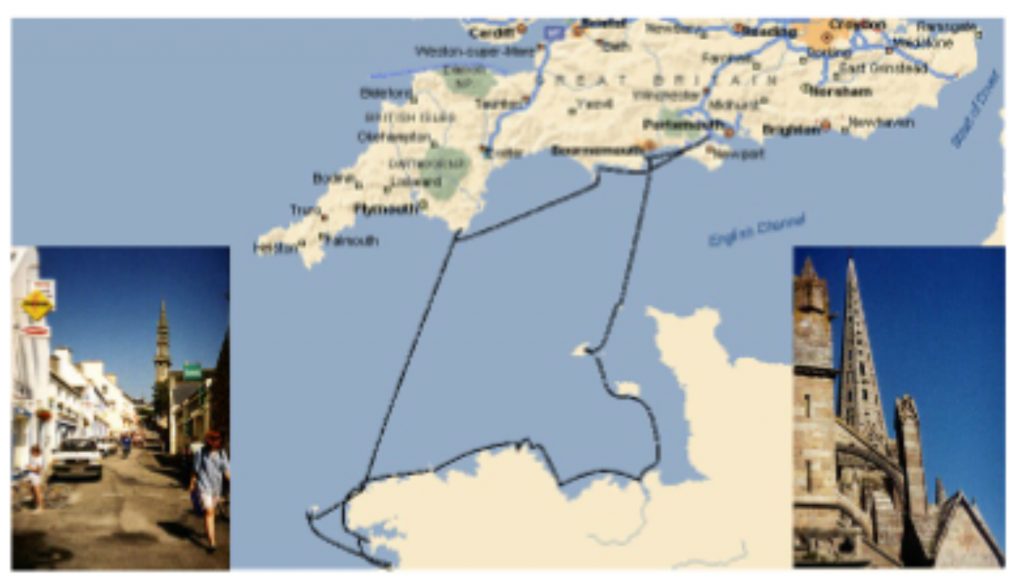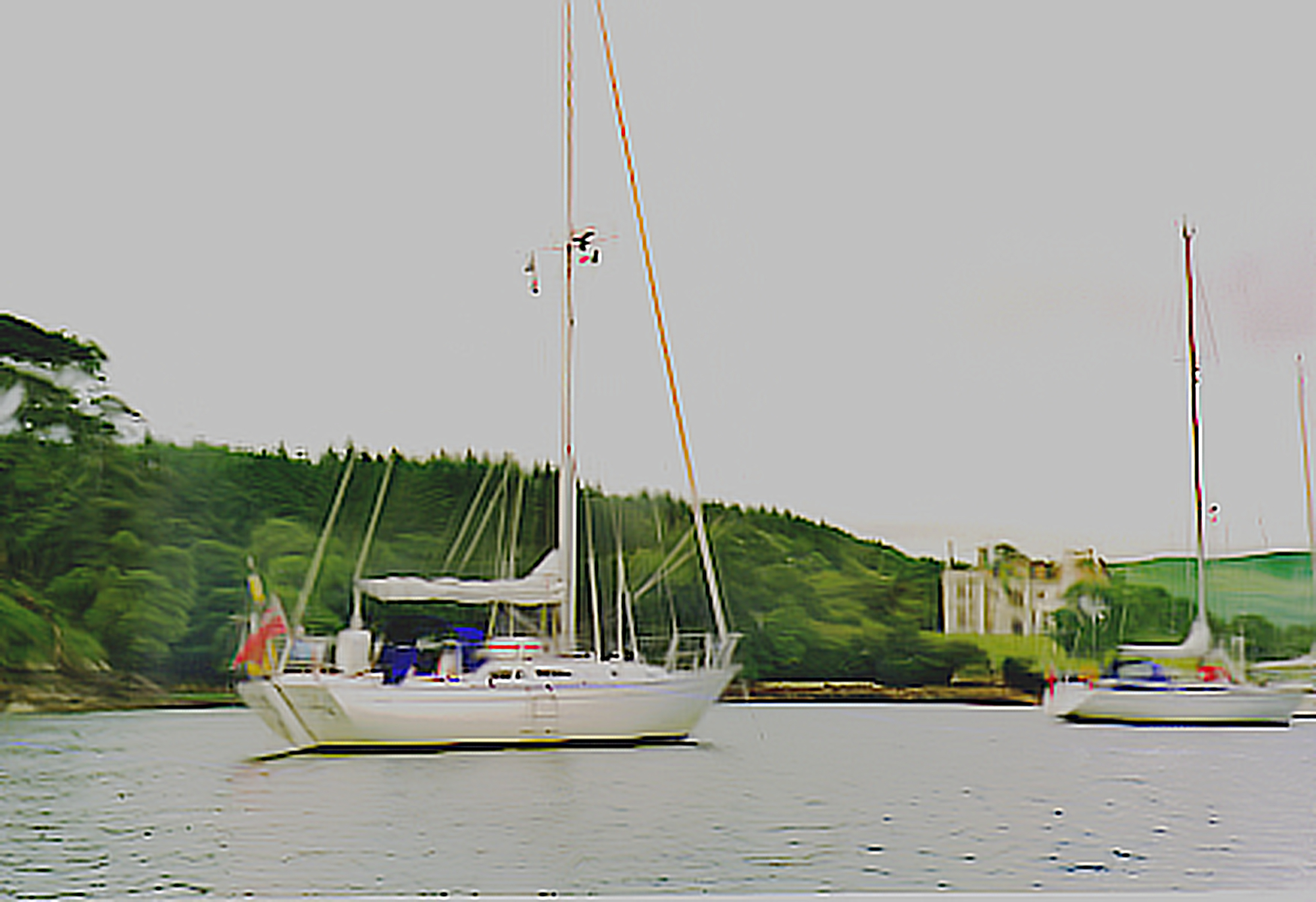 Southern Ireland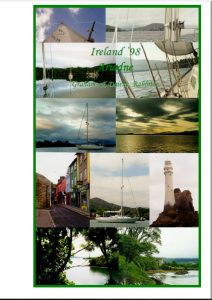 This was the trip that started me writing Logs. We arranged for our son Iain, his wife, and two of their friends to take Ariadne to Ireland, where Dairne and I, with our friend Sue, would take over in Crosshaven.nd
It all worked out as planned, although they had had a very rough trip across the Irish Sea, and Iain was insistent that we should get a windvane (which we had planned to do at some stage.
Also we found a number of hilarious notes left on board, and these could not be wasted. The only thing to do was to incorporate them into a Log.
Here are some examples
Quote of the day: "Its getting brighter over there" – constant rain all day apart from 2 occasions when this statement was made – followed by torrential rain"
Bridget recorded that "Iain's brain is still a mystery – do we preserve it for science to investigate?"
Standards are slipping  – 1000 departure, Bacon Brunch, "wife swapping day" David and Clare made a start, Iain and Bridget finished. Flannel went over side, so no more washing this year. Tinned potatoes, tinned bangers and beans and plastic plates!
Postcard from Dartmouth
Its looking brighter ahead.Boat  sails well to windward. Running low on supplies. Please send more. Bridget wanted to see a frigate but passed a minesweeper. Her eyes are still watering. Clare was target for Wembury Range (well nearly). Next stop Baltimore??? David still asleep. Iain's still punching tide.
Bridget spread lasagne all over cabin. 10/10 for effort and style. Nav skills improved – reached Falmouth 1 hr ahead of eta.
Breakfast ashore. Bridget insisted on wearing Lark teeshirt. David has now managed P13 of 300pp novel after 3 yrs reading. Girls bought knitting, basket and guillotine! Deck shoes have bred – lots of little ones have appeared (size 2). Managed to avoid mud at Malpas in "Ariadne" by 100mm – but grounded the Avon on way back from pub.