The boat we bought
In 2015, Teal was 12 years old with less than 300 hours (approx) on the engines – 25 hours per year!
The boat was beautifully maintained, but we had to be concerned about the low level of use.
We had a special problem. Dairne had had a stroke, and was not very mobile.
We had to devise ways of getting on board easily, and coping with the rather high steps from the deck into the cabin, and from the saloon, into the galley (forward) and the owners cabin (aft).
See the 'mobility access' tab on the menu to the left
Key Issues
The previous owners had kept Teal in a marina, plugged into shore power. That was not our way of sailing.
We like to spend days away in anchorages like Newtown and Keyhaven.
We keep our boat on a swinging mooring at Marchwood. It is easier to pick uo a mooring short handed rather than backing into a marina berth. BUT you need a tender to get ashore.
Our solution was to install a 4kw Fischer Panda generator (the space for which had been designed into the boat), and to add snap davits so we could go on using the 8ft Walker Bay dinghy that we already owned.
Specification
Overall Dimensions
Length (Hull): 10.7m (35'1″)
Beam: 3.8m (12'6″)
Draft: 1.1m (3'7″)
Airdraft (Mast down): 3.44m (11'3″)
Displacement: 9,000kg
Built 2003
GRP Hull, deck and superstructure
Teak laid decks
Machinery
ENGINES
2 x Perkins Sabre 265Ti 265hp diesel engines
6 cylinder 6 litre motors with turbochargers and intercooling
Fresh water cooling
Maximum speed 17 knots approx
Cruising speed 15 knots
650 hours run (approx) at Aug 2020
Vetus single lever electronic throttles/shifts (duplicated on flybridge)  (replaced 2017 with new model)
Shaft drive to four blade bronze propellers
Eltrim  trim tab controls (duplicated on flybridge)
Cutlass bearings and deep sea seals replaced in 2012
Eltrim trim tabs with indicators
Vetus bow thruster
ELECTRICS:
4 x AGM Batteries (New 2011) with isolators
Charged by engine alternator and 240v shore power battery charger
Fischer Panda 4kw generator installed 2015  (150 hrs at end 2018)
240v Shore power ring main
12v accessory outlets
Nav lights halogen; anchor light LED
24v solar panels switchable between battery banks installed 2019
TANKAGE:
2 x 608 litre (134 gallon) stainless steel fuel tanks
1 x 350 litre (77 gallon) stainless steel water tank
WATER SYSTEM:
Pressurised hot and cold water system
Water heated by engine calorifier and 240v shore power immersion heater
Also heated via  Eberspacher cabin heating system
Accommodation
ACCOMMODATION
Sleeps six in three double berths in two cabins and the saloon
Eberspacher diesel fired warm air heating with outlets to all cabins (also heats water)
FORWARD CABIN:
Double V Berth with storage below
LED reading lights over bunks (2019)
High level storage lockers
Hanging locker
Overhead hatch to deck with retractable blind
2 x Opening port hatches
FORWARD HEADS:
Jabsco sea toilet
Porcelain hand basin with hot and cold mixer/shower wand
Mirror
Storage lockers
Shower curtain
GALLEY:
Stainless steel double sink with hot and cold mixer
Plastimo Neptune 2000 two burner gas cooker with grill and oven
Gas and carbon monoxide alarm (new 2016)
Converted to propane
Waeco refrigerator. With freezer compartment
High and low level storage lockers
Opening port hatch
SALOON:
C shaped converts to a double berth
Height adjustable saloon table
Engel refrigerator
Fold down coffee table with 12v accessory outlet below
2 x Moveable seats/lockers
KAB 525 helm seat with suspension
Folding double passenger seat
Large chart. table with chart storage
Overhead electrical distribution panel
Curtains and pelmets; dark blue carpeting and seat fabrics.
Scatter cushions
Opening side and aft windows.
AFT CABIN:
Full width aft cabin
Double berth. LED reading lights over (2019)
Numerous storage lockers and hanging locker
Dressing table with mirror
Overhead hatch to deck with retractable blind
2 x Opening port hatches
Pillows and quilt  (excluding sheets pillow cases and quilt cover)
ENSUITE HEADS/SHOWER COMPARTMENT:
Electric sea toilet with fresh water flush (2017)
Porcelain handbasin with hot and cold mixer/shower wand
Storage lockers
Towel rail and mirror
Shower curtain
Navigation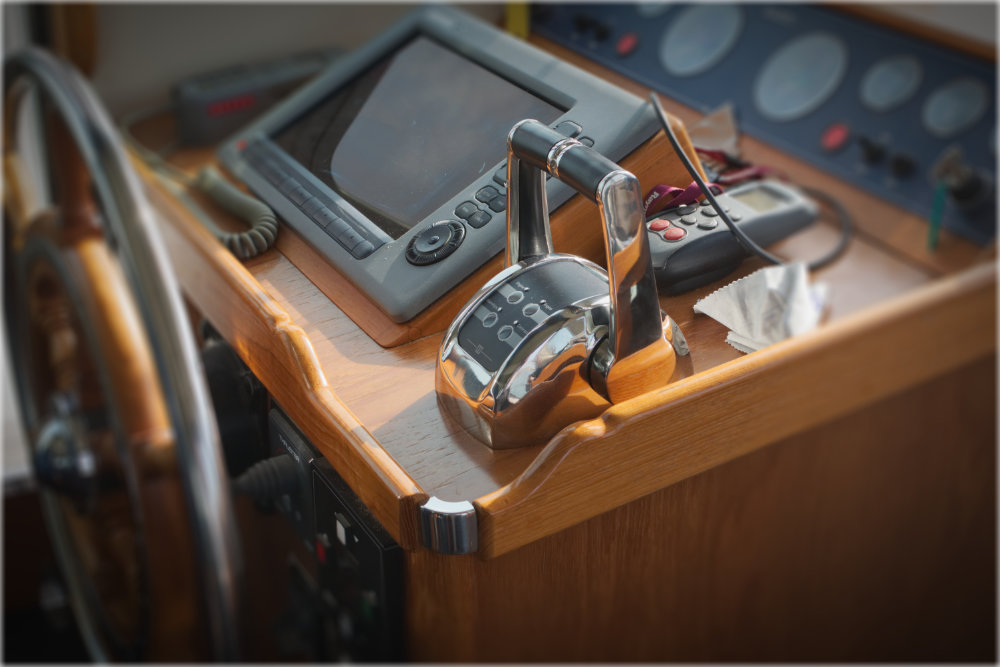 (FLYBRIDGE)
Compass
Raymarine C90W chartplotter/radar display (New 2013)
Raymarine 230 DSC VHF remote speaker
(Portable ICOM VHF replaces failed VHF handset)
Raymarine ST6001 Autopilot
Raymarine ST60 Tridata (Log, speed and depth)
(LOWER HELM)
Compass
Raymarine C120W chartplotter/radar display (New 2013)
Raymarine 230 DSC VHF Handset with remote speaker
Raymarine ST6001+ Autopilot
Raymarine ST60 Tridata (Log, speed and depth)
Raymarine Raydome (New 2013)
Raymarine AIS (installed 2015)
Raymarine GPS (replaced 2017)
Raymarine Smart wireless remote controller
Raymarine rear view camera (installed 2015)
Navigation lights
Horn (replaced 2017)
 General
Deckwash seawater pump to deck fitting by anchor
Firdell radar reflector on mast (2019)
Teak table for the aft deck
Bimini cover for aft deck
Pushpit mounted outboard bracket
Teak bathing platform
Boarding ladder to bathing platform
Hot and cold transom shower
Exterior seat cushions
Screens for windscreen and side windows
Cover for seats on flybridge
Electric (automatic) and manual bilge pumps
Windscreen washers, wipers and demister
Plastimo clock and barometer
Stereo radio/CD player
Portable TV/video player (added 2016)
Special boarding ladder for disabled crew(added 2015)
Extra internal steps for disabled crew (added 2016)
8ft Walker Bay tender on Snap Davits, complete with sailing rig (installed 2016)
Minn Kota electric outboard (Installed Sep 2017)
The need
The modifications described here have proved beneficial to all who have used them. In particular, as we get older, climbing on and off boats, and mounting ladders gets increasingly difficult. In our case, I was 75 and Dairne was 74 in 2016. Also, she had quite a severe left side stroke in 2012. She walks with a stick, very slowly, and uses a wheelchair for any significant distance (roughly more than 50 metres).
Getting on board
Many motorboats rely on access via the swimming platform at the stern. Few have handholds that meet the needs of anyone with mobility impairment. Teal is far better in this respect having midship access, but it is a couple of feet above the pontoon. We had a purpose designed 3 step boarding ladder made which was as wide as possible, another feature required by those with impaired mobility. It turned out to be quite a challenge to my friends who made it, but the result is excellent. The ladder stows under the saloon seats when not in use.
The other essential was a hand grab mounted on the saloon side. We had to be careful as the securing screws go through into a cable duct!
Internal Access
Some motorboats have a better walkthrough thanTeal, but all we have seen rely on boarding via the swimming platform. So we had to overcome the level difference between the side deck and the main saloon sole. As built there are is one step between these levels. We added an additional portable step on each side, secured with quick release clips or wingnuts so access to hatches and lockers below was not compromised. 
The steps down into the cabin aft and the galley forward are steep, and the rise of each step is much more than the standard maximum step rise of 7 inches.  Our solution was to add portable half steps secured by quick release clips to allow access to lockers below the steps.
These work well, but we have yet to provide proper handholds on both sides as required by a stroke survivor. 
Wheelchair
Dairne uses a standard NHS wheelchair which folds up. It stows in a specially made zipped water resistant bag that lashes to the guardrails across the transom. Access is only slightly impaired,
Cruising needs
Teal had always been kept in a marina, almost permanently plugged in to shore power.
With less than 300 hours on the engines in 12 years, she had not had much use. We, on the other hand, would want to visit places like Newtown, Keyhaven, Chichester, and South Deep in Poole harbour. In all these harbours we would be at anchor, and would not have access to shore power. And Teal has 2 fridges to sustain!
Mooring
Although we kept Teal in the new Yacht Haven at Royal Southern YC in Hamble for the first winter, our intention was to keep her in the summer on a swinging mooring at Marchwood. Once again, we would not have access to shore power.
Luckily, the Hardy Commodore 36 was designed to have a generator, and we found that the space had not been compromised. Even more fortunate was that the supplier, Fischer Panda, were located nearby at Ringwood. So the generator was installed in Poole where the boat was bought before we made the delivery trip to Marchwood in Southampton Water.
The Tender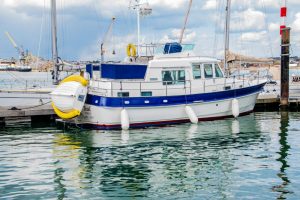 On a mooring we would also need a tender. Teal had no dinghy (other than the liferaft).
We already had an 8ft Walker Bay dinghy which, with its inflatable fender would make an excellent tender. But its curved sides would not work on standard snap davits on the swimming platform. Eventually we found that Weaver, the Snap Davit manufacturer had developed a frame to take the Walker Bay. We think we were the first to import the kit from the USA. It was expensive, but it works.
The only downside is that it adds quite a lot of weight to the dinghy.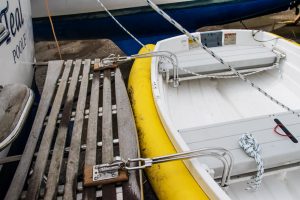 It also means that we have a sailing dinghy to use when visiting the serene harbours mentioned earlier.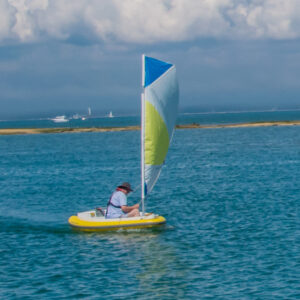 2019
Solar Panels to charge either battery bank
Teal was built without a generator, which is acceptable for a boat that will spend nearly every night in a marina with access to shore power. Our boating does not work like that.We prefer quieter places like Chichester Harbour, Newtown Creek , Keyhaven, and South Deep in Poole Harbour. So a generator was installed as I bought her, and it has delivered. But with 2 fridges, a television, and a crew that feels the cold we were having to run the generator for 2 hours a day to maintain the batteries at a safe level.
Meanwhile, every time I went up to the flybridge I found myself staring at the large blank area over the wheelhouse that -to me – was begging to have solar panels installed. Solar technology has improved by an order of magnitude in the last five years. 
So I made up a cardboard template, and went to Barden Electrics. They supplied 2 panels that we were fairly sure would accommodate the slight double curvature. I chose the self adhesive version. Laying them down was terrifying as it really is a one shot operation.
If I were doing the job again I would not use self adhesive on such large panels. But with the help of electrician Paul Lawson (Marinetech) we managed it. Paul found some neat cable glands that look really waterproof (see picture). We put the regulator just under the floor at the fwd end of the saloon, where it is fairly accessible and connected to the batteries via a 3-way switch. Important: This switch was Port-Off-Starboard, not Port-Both-Starboard, which could have resulted in stray voltages hitting the panels unexpectedly).
The regulator was a modern Victron, with output voltage set for the gel batteries. An app on my phone means I can see the wattage being output by the panels, the panel voltage, and the battery voltage as well as the current from panel to regulator and regulator to battery. 
Usually, the solar power is directed to the service battery bank. The system operates even when the batteries are turned off, so charges the batteries when we are not on board. And even in winter, I can switch the output to the engine battery bank if that shows signs of losing charge. (we are not permitted to leave shore power connected in our boatyard)
The semi-flexible panels were fairly expensive, but were the biggest we could easily get into the space. Prices are coming down very rapidly, so it would not surprise me if someone could soon put this installation in for £1000 installed.
Each Panel has a rated peak output of 100 watts. On a good day, even in Spring, I have seen combined output of 150 watts on a couple of occasions in the middle of the day. Even at 0700 I often see 30-40 watts. 
Mostly, the charge is directed to the service bank to cope with the fridges and heating demands. 
The main problem I have with this new installation is that most of the time the generator is not needed. So I have to discipline myself to run it for an hour a week just to keep it in good condition. That means that, in the morning, I can run a 750 watt fan heater in the aft cabin to warm my wife up, the 750w electric kettle and the immersion heater for up to an hour while Dairne is getting up.
LED reading lights in aft cabin and fcle
We have upgraded the bedside lights and the anchor light to LED, but I have yet to find an economic replacement for the deckhead lights in the saloon and cabins. 
There were a couple of bonuses. The extra power meant that charging the computer, my Ipad (which I now use to edit photos and video), and my phone would be easy. We also noticed that the charger voltage on the new G-Tech vacuum cleaner I had bought was 27volts. Paul Lawson devised a cheap step up from the 24v battery voltage. It actually works off the batteries, but the fact that they are permanently connected to the solar panels means that we always have a fully charged cleaner available. 
This promises to be one of the most successful mods we have done so far. I have almost stopped thinking about battery state.
Firdell radar reflector
2018
New mixer tap in aft cabin
LED riding light
2017
Installed deckwash pump
Renewed stbd stern gland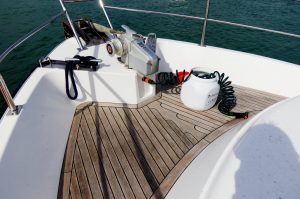 .
.
.
Installed electric toilet in aft cabin
Replaced throttle system. (Failed at end of 2016. Advised by Vetus that it was obsolete)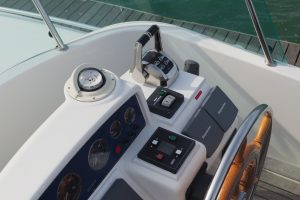 .
.
.
.
2016
Installed snap davits for Walker Bay (see Essential Mods)
End 2015
Added steps and boarding ladder (see Mobility Access)
Replaced anchor with 20kg Bruce; CQR to locker on deck (Bruce would not fit)
Transferred hotplate and electric kettle from Ariadne
Replaced gas alarm with gas/CO alarm; convert to propane
Added 2 bookcases
.
.
.
Installed Wireless autopilot remote control (ex Ariadne)
2017
.Installed AIS (and aerial splitter)
Installed Rear View camera
Installed Fischer Panda 4kw generator
On this page, the omissions from the current specification that are desirable are noted
LED lights
Th anchor light has been replaced with LED. I  cannot find bulbs to fit the saloon light fittings, so the entire fittings need replacing. Advice being sought from Hardy.
Navtex
The Navtex was removed from Ariadne. But so much weather data is now available by intern et and mobile phone that  it is questionable whether it is worth installing on Teal.
TV
We carry a small portable 12v TV which we use occasionally. A permanent location for the aerial would be desirable.
Alarm System
There is an alarm system that connects to a mobile phone that we never got round to installing on Ariadne. I really must get round to putting it on Teal!